Paul Dunbar is the new pastor at Franklintown United Brethren Church. He and his wife, Karen, recently celebrated their fortieth wedding anniversary. They have two married children and five grandchildren. He is a graduate of United Wesleyan College in Allentown, PA (BS, 1977), Evangelical Seminary in Myerstown, PA (MDiv, 1995), and Biblical Seminary in Hatfield, PA (DMin, 2007). In addition to his pastoral duties, Paul is an adjunct faculty member at Biblical Seminary in their English language program for international students, and a Lecturer in Biblical Studies at Evangelical Seminary.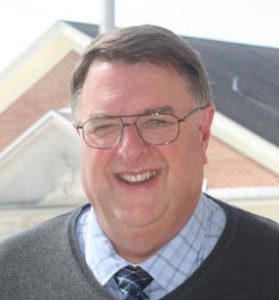 PRESENT LEADERSHIP VALUES AND PRACTICES:
When my life work is over, I want more than anything that it might be said of me that I was always "pursuing the adventure of a passionate devotion to Jesus Christ." The three statements below constitute what I consider to be my personal core values:
1. ONE PASSION: A Christian leader is one who is totally devoted to Jesus Christ, and passionate about growing in his/ her relationship with Him.
2. ONE PURPOSE: A Christian leader is not a tyrant, issuing pronouncements of how things are going to be run, but a servant who enables people to be what God wants them to be, and do what God wants them to do.
3. ONE PERSPECTIVE: A Christian leader seeks to know what God is doing in the ministry sphere in which he/ she has been placed, knows the people God is seeking to reach, and longs to be involved only with God's work.
I believe that these three personal core values translate into three purposes for which God has established the church, which relate to the Great Commandment and the Great Commission:
1. EXALTING THE KING: "Love the Lord your God with all your heart …"
2. EQUIPPING THE BELIEVING: "Love your neighbor as yourself"
3. EVANGELIZING THE PERISHING: "Go into all the world and proclaim the Good News"
Savior, Like a Shepherd Lead Us
Karen and I are both so excited to have been called as your new pastor of Franklintown United Brethren. We have served together for many years in many different places, but we sense a new day and a new vision for the life of this church and community. We are seeking to understand the unique gifts and calling of this flock to advance the Kingdom of God in Central Pennsylvania, and are trusting in Him to guide us, providing us with all the resources needed, and the power to accomplish the work for the glory of God alone.
One thing that has impressed my own heart has been the mural on the front wall of our worship center, the painting of Jesus as the Good Shepherd. I spent some time the other day meditating on that artwork, praying that I might be a good shepherd like Jesus. It also reminded me of what Peter wrote to the leaders of God's church:
"Care for the flock that God has entrusted to you. Watch over it willingly, not grudgingly—not for what you will get out of it, but because you are eager to serve God. 3 Don't lord it over the people assigned to your care, but lead them by your own good example. 4 And when the Great Shepherd appears, you will receive a crown of never-ending glory and honor." (1 Peter 5: 2-4)
I take this instruction to heart and am sometimes overwhelmed with the responsibility. I need to FEED the flock, providing solid spiritual nourishment for God's sheep, but also teaching them how to feed themselves, as no one could survive on one meal a week! I must also "TAKE HEED" to the flock (5: 2); loving God's people, sharing life with them, and earning their trust. Jesus, the Good Shepherd, gave his life for the flock, and so I will sometimes be called upon to BLEED for God's people, to protect them from those who would seek to harm them. And finally, I must LEAD the flock by following God's direction for our lives. The Chief Shepherd himself said that He did whatever He saw His Father doing (John 5:19). Those who are in leadership in the church have the responsibility to know what God is doing, and then cooperate with his program! They are not to figure out a good strategy on their own, and then ask God to bless it. So I have a big job to do in shepherding God's flock, and I covet your prayers for me, that I might be a faithful and loving shepherd.
It is a wonderful thing to remember that while God has entrusted to me the task of shepherding God's flock, I never cease to be a sheep myself. And so my prayer is:
Savior, like a shepherd lead us. Much we need Thy tender care.
In Thy pleasant pastures feed us. For our use Thy folds prepare.
Blessed Jesus, blessed Jesus. Thou hast bought us, Thine we are.